About us

K&M Limited., LLC - is your reliable and high quality supplier of steel pipes from the manufacturer.
OUR MISSION
The source of our creativity in weakness, man creates in order to compensate for what he lacks.
E.Hoffer
QUALITY FIRST
CUSTOMER SUPREME&EXELLENCE-PURSUING
& CREDIBLE OPERATION
Our mission - to create a good impression on us the counterparty and to lay a solid foundation for cooperation, regardless of the size of the transaction.
Our strength - in a highly specialized staff, quality products and scores years of warranty.
Production/sales of steel pipes
K&M Limited started its operations in the steel pipes market in 2010.
In our warehouse always are available over 2000 M.tons of pipes in a wide range of diameters from 159 mm to 1420 mm which ready for sale.
.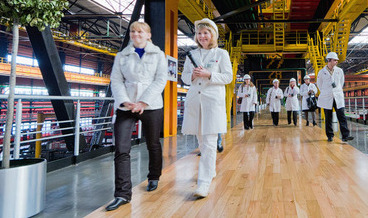 Pipes from "K & M Limited" - a consistently high quality, strength, durability, and most importantly - low price!
Catalog of large diameter pipes (LDP)
At present, our company produces and offers for the implementation of large-diameter pipes from 325 mm to 1420 mm: new (with / without insulation coating), not previously exploited (from state reserve), used. Our catalogue of large-diameter pipes are the most recent receipt of tubular products to the warehouse, and special offers for the implementation of operating in a given period.
Why Us?
Some of our specialties, which make us a profitable business partner for our clients are
Superior quality products
Timely deliveries
Cost effectiveness
A design solution to a design problem
Proven execution of small as well large batch orders
Customer centric approach
Own production LDP
Our company has its own production of large-diameter pipe (LDP). This allows us to set minimum prices for the pipe, while maintaining high product quality. Our company ready to offer hot rolled weld/seamless steel pipe from 159 to 1420 mm. All products are manufactured according to GOST and has a high specification.


Plants producing large diameter pipes